The 2017 Halloween Event was a limited time event in the game that occurred from the 27th of October to the 14th of November 2017.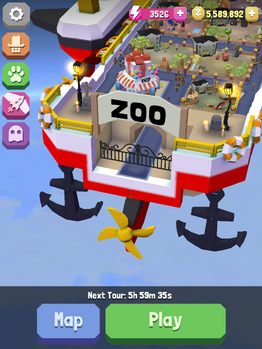 The Halloween Event 2017 contained very few changes to gameplay, with the only addition being ghosts which could be seen on the back of animals in the stampede, in which if the player rode an animal with a ghost on its back, the ghost would be scared away and the player would earn one ghost (

). Halloween themed music identical to that of the previous year replaced the regular music for each island, although certain islands occasionally bugged out and did not have any music. Pumpkin shaped shrubs could be found in each map, again reused from the previous year, although apart from this, no changes were made to the appearance of the stampede. The Sky Zoo featured a Halloween-themed gate and cannon area, as well and Halloween intro music as soon as the game was opened.
Three new Halloween themed animals and hats were added into the game, available from a shop for purchase with

for a limited time.
While these hats and animals have expired, the player can still obtain them in the future events.