This is the best and most accurate Rodeo Stampede wiki and encyclopaedia for the smash hit mobile game Rodeo Stampede: Sky Zoo Safari. We are a work in progress, so new users are most welcome to edit, talk or just browse our site!


Please note our emphasis on completion, and work towards completing created pages if considering assisting us. Please see the editing instructions and behaviour policy before editing and discussing.

We have amassed 16,537 edits so far, however help is very much appreciated as we are still incomplete. Happy browsing!

Welcome!
Welcome to the number one Rodeo Stampede wiki with the latest and most accurate information about the smash-hit mobile game Rodeo Stampede out there. Anyone can edit this wiki. This wiki will give you every bit of information about every animal and will give you accurate information on how to obtain every animal in the game. We are the number one wiki for accurate, correct and measured information about Rodeo Stampede, however we are still incomplete and further assistance would be much appreciated. If you are dissatisfied or would like to contribute, feel free to write on our admin CollectorManiac's message wall, although please note that we are still a work in progress.

We as Rodeo Stampedia feature complete pages, and focus on completion rather than just making pages to fill red links. Help is needed so please assist with completing pages, as we want the viewer to get a full understanding of what they are looking for.

See all animals, animal species and zones here!
Here you can find links to all animals, species and islands for your convenience.

See all baby animals and abilities here!
Here you can find all baby animals and sidekick abilities.

About

Rodeo Stampede is an epic endless runner available on iOS and Android, featuring on both's top 10 games of 2016. Saddle up and get ready to wrassle with the stampede-iest critters this side of the Savannah. Lions and Tigers and Bears are no match for this rodeo star. Armed with a lasso and a ten gallon hat, swing from the backs of stampeding buffalo, elephants, ostrich and more. Hold tight atop these bucking beasts and you might just win their hearts. When the stampede's over, the zoo begins! Fill enclosures with your four-footed friends and let your patrons gaze in wonder. This is one wild ride that you will not want to miss - YEEHAW

Ride through the wild stampede on the backs of buffalo, elephants, and all types of exotic animals
Dodge and avoid obstacles in your chase for high scores
Travel across exciting landscapes!
Catch and befriend animals of all shapes and sizes to show off in your Sky Zoo
Travel back in time to explore the Jurassic Age and catch Dinosaurs
Invite visitors to come admire your collections
Expand and Manage your zoo to earn huge rewards from visitors

Feel free to click the icon and talk about anything about the game here!
Talk about new possible animals, obtaining animals, hats, tips and strategies here!

Find the hub for all current projects and guidelines here!


About This Wiki

This Rodeo Stampede wiki encyclopaedia was created due to CollectorManiac's dissatisfaction with the absence of quality information on the game. While still very much a work in progress, this wiki is the definitive source of information for the mobile hit, Rodeo Stampede! This wiki is in no way affiliated with Featherweight Games, Yodo1 Games or Dan Graf. Please assist us to continue to grow as a full database and community central for Rodeo Stampede!
News
New zone released
Competition winners announced
2018 Chinese New Year animal babies still do not exist
Spelling and punctuation fixed
More info in the latest news blog >>>
Featured
Garden
The latest zone released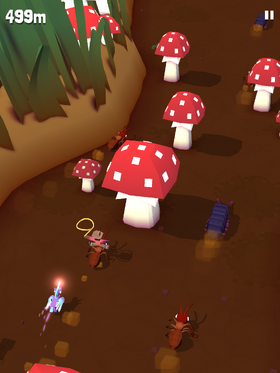 Polls
Game Related
Which is your favourite new Garden animal?
Wiki Improvement
Do you use the top navigation bar?
Would you like to see the Rodeo Stampede text font implemented into the animal infobox headers?