The 2017 Winter Holiday Event is a limited time event in the game that occurred from the 14th of December 2017 to the 15th of January 2018.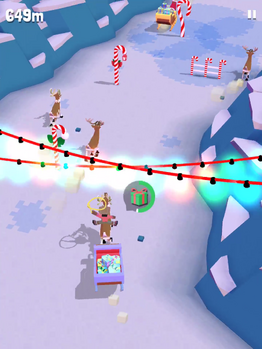 This event, gameplay wise, was identical to the 2016 Winter Holiday Event and did not include any gameplay changes. Instead, a sub-zone was added, which was separate from regular gameplay. The sub-zone was identical to Mountains although certain graphical elements were changed, with Christmas styled obstacles. The music was also an arrangement of the Mountains theme. On the sub-zone, the player had to ride many types of reindeer, in which some carried sleds, to collect presents (

). The player was required to ride a reindeer for an extended period of time if it carried a sled to be granted

. There were 3 different sleds that could be ridden. The brown sled rewarded the player with 3

, the purple sled rewarded 6

and the golden sled rewarded 12

. Alternatively, the player could collect bouncing Santa sacks with presents in them to collect 1-2

. The player could save up presents to trade them in for animals and hats.
Additionally, there were added Christmas decorations in the Sky Zoo.
While these hats and animals have expired, the player can obtain them in the future events.